The Pleasant Pet CBD Oil - 300 MG
Regular price
Sale price
$40.00 USD
Unit price
per
Sale
Sold out
Experience the pure essence of nature with The Pleasant Pet Hemp Oil. Our organic, broad-spectrum CBD is lovingly cultivated in Maryland without the use of pesticides or herbicides. Each 1 fl. oz (30 mL) bottle is produced with care by Fingerboard Farm in Ijamsville, MD.

Ingredients:
We believe in the power of natural ingredients. Our hemp oil is crafted with organic cold-pressed hemp seed oil, organic broad-spectrum hemp oil, sunflower lecithin, and a proprietary blend of terpenes. This thoughtfully formulated combination ensures the highest quality and effectiveness.

Versatile Uses:
The Pleasant Pet Hemp Oil is your pet's ally against various conditions. From pain and arthritis to seizures, anxiety, sundowners, allergies, skin conditions, and digestive issues, our product provides support for their well-being.

Instructions:
To unleash the benefits of our hemp oil, shake well before use. Simply add it to your pet's favorite treat or mix it with their food. For optimal results, use daily. Remember to store the bottle in a cool, dark place.

Serving Size Guide:
Tailored to different weights, our serving size recommendations make it easy to administer the hemp oil to your furry friend:

- 0-25 lbs: 0.25 mL
- 26-55 lbs: 0.50 mL
- 56-75 lbs: 0.75 mL
- 75+ lbs: 1.00 mL

Quality Assurance:
We take pride in ensuring the highest standards. View our Certificate of Analysis for detailed information about the product's quality and purity.

Note: This product has not been evaluated by the FDA and is not intended to diagnose, treat, cure, or prevent any disease. However, it is safe for humans, so you can give it a try too!

The Pleasant Pet Hemp Oil is more than just another CBD product. It's a natural relief solution crafted with love. Designed to address common pet ailments, this organic CBD tincture offers the utmost care and support for your furry companions. Created out of necessity by our CEO, Tiffany Lewis, for her beloved senior Shih Tzu, Millie, it embodies our dedication to improving the well-being of pets everywhere. Give your pets the gift of holistic wellness with The Pleasant Pet Hemp Oil.
Share
Ingredients

INGREDIENTS: Organic cold-pressed hemp seed oil, organic broad-spectrum hemp oil, sunflower lecithin, proprietary blend of terpenes.
How to use

SUGGESTED USES: Pain, arthritis, seizures, anxiety, sundowners, allergies, skin conditions, digestive issuesINSTRUCTIONS: Shake well before use. Add The Pleasant Pet Hemp Oil to your pet's favorite treat or mix with food. Use daily for best results. Store in a cool, dark place. Safe for humans, give it a try!

 

SERVING SIZE:

0-25 lbs: 0.25 mL
26-55 lbs: 0.50 mL
56-75 lbs: 0.75 mL
75+ lbs: 1.00 mL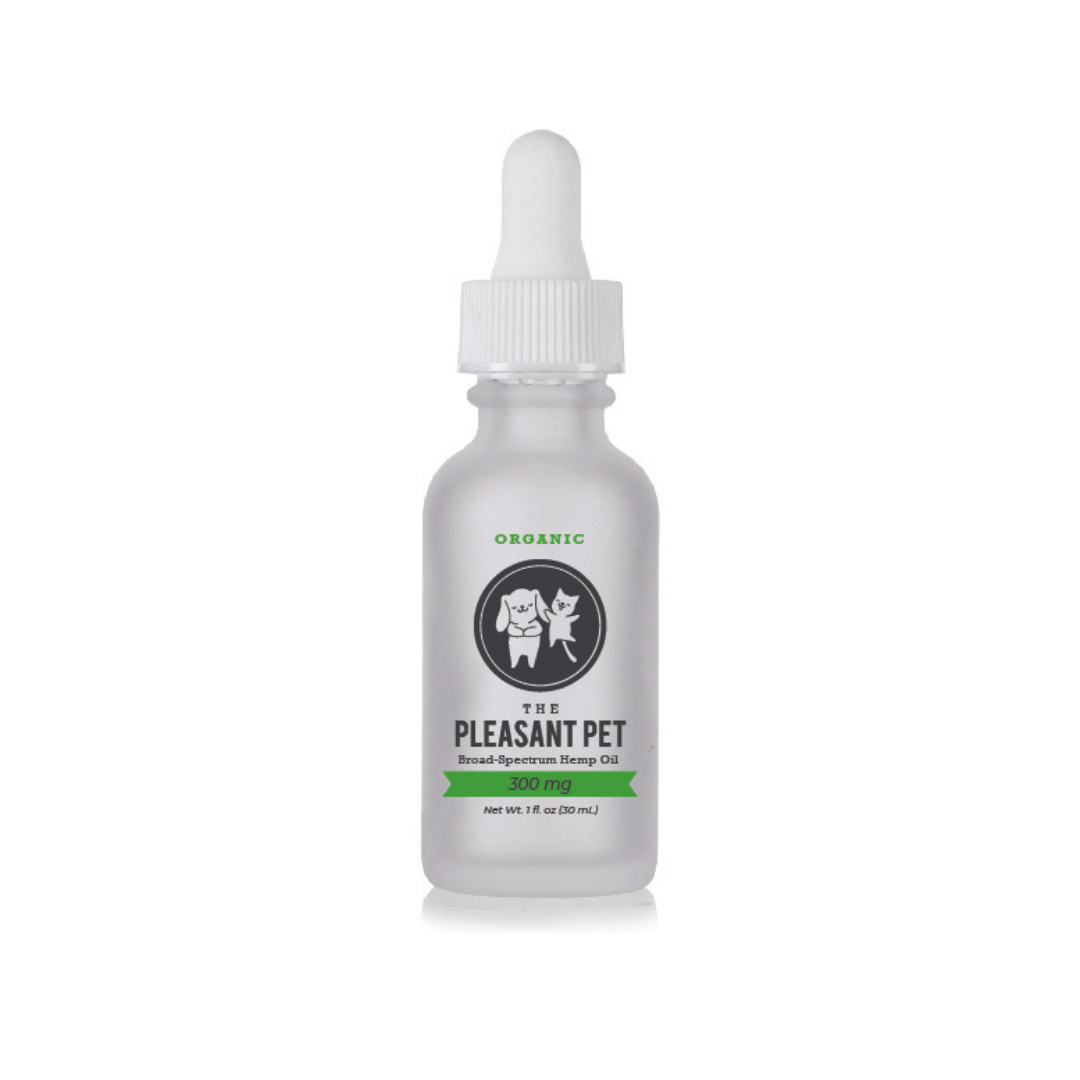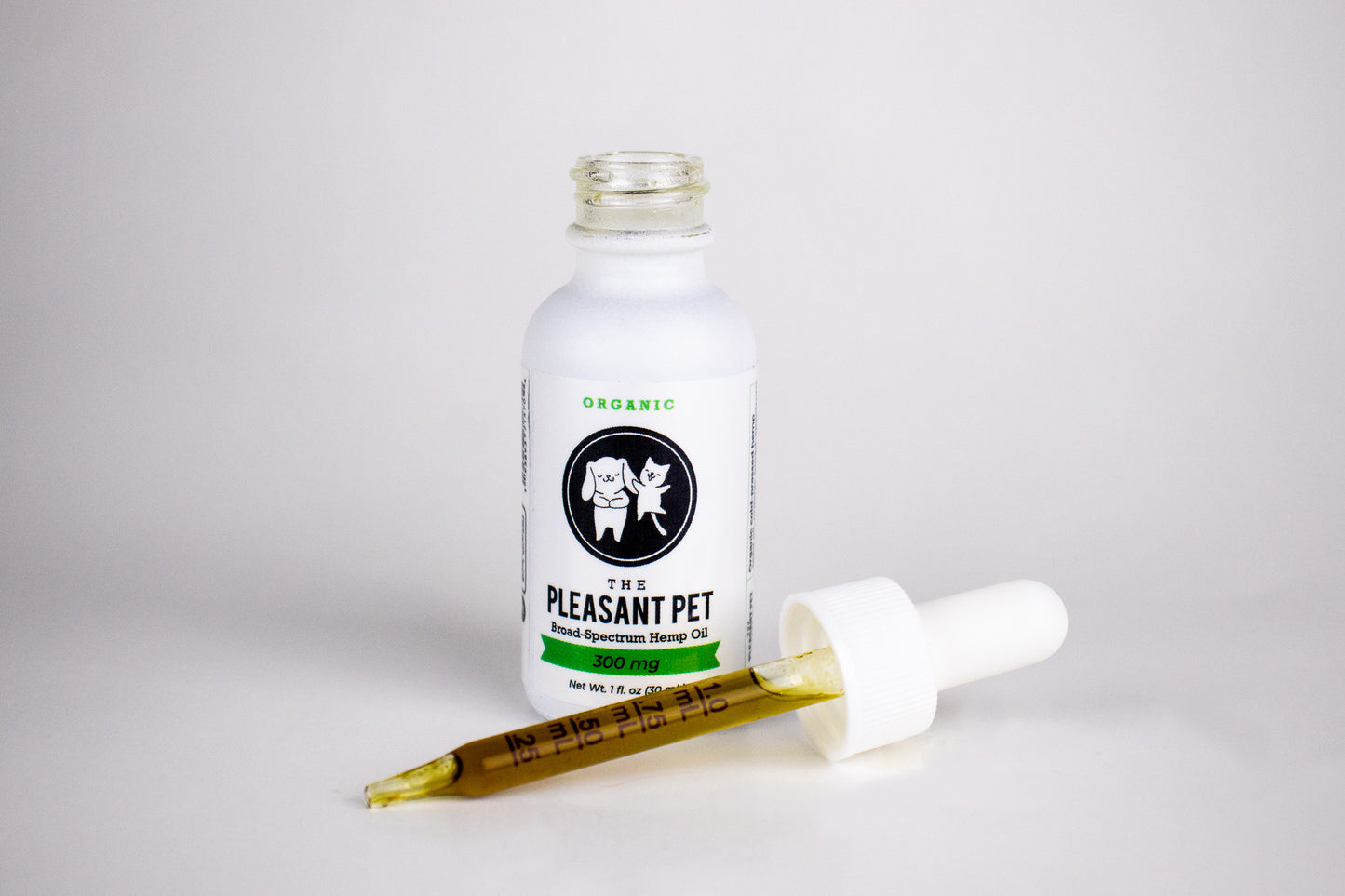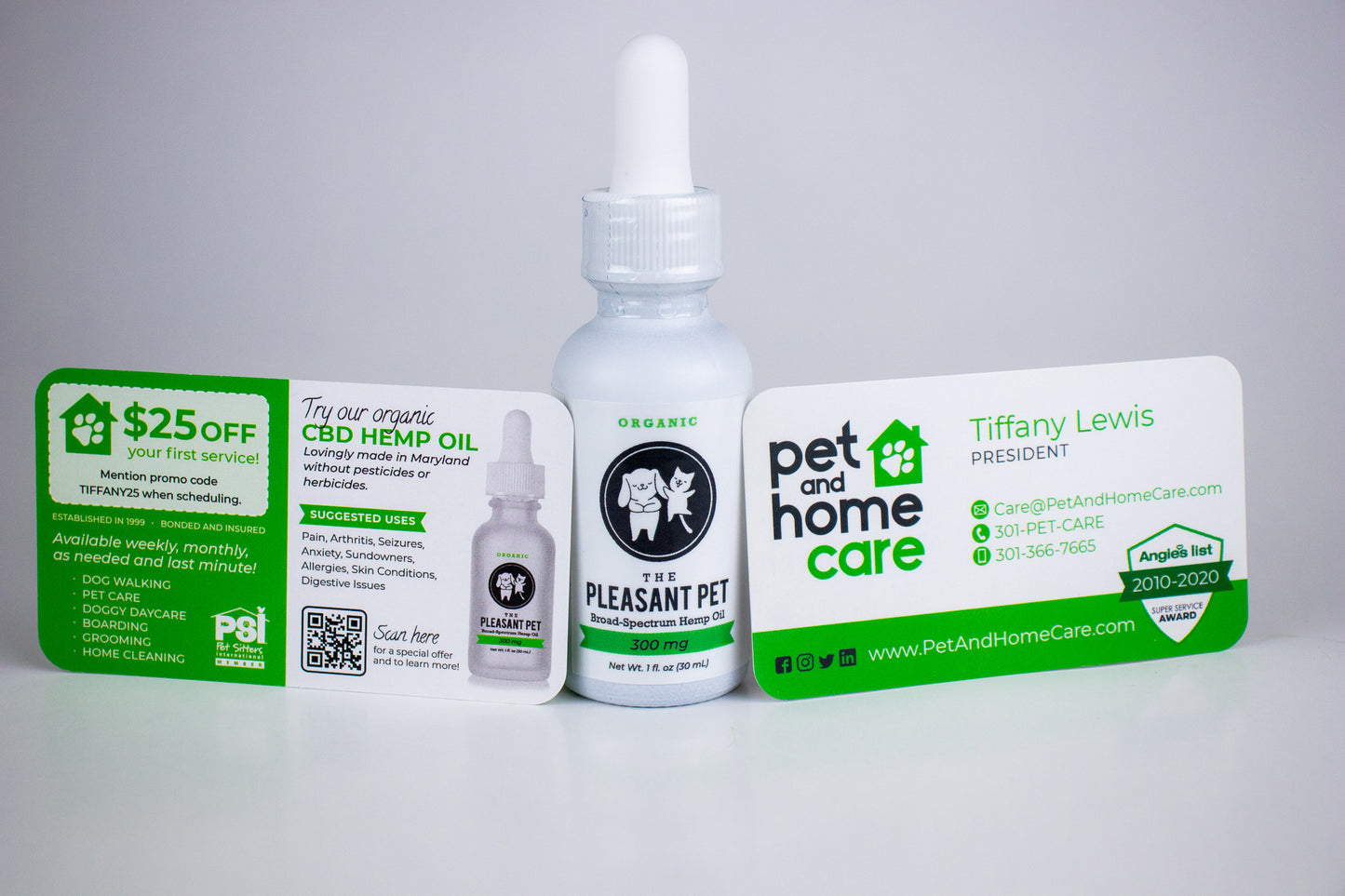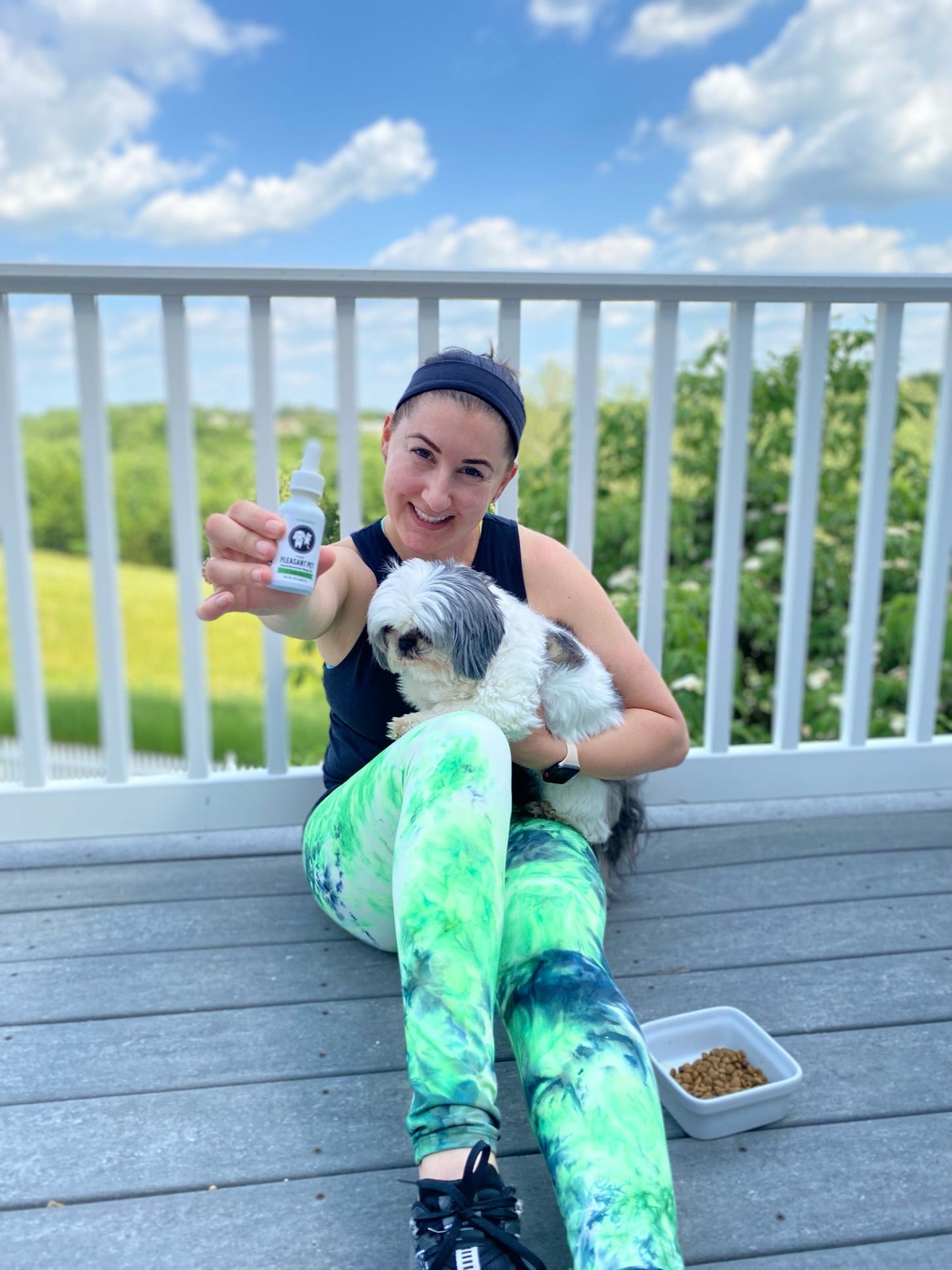 A product that actually works!!
This product is amazing! I have used it myself and have gifted it to two of my friends.
(For reference, the photo of the two dogs) the left pup Ollie had super bad anxiety and the one of the right, buzz, had such bad arthritis that he would constantly walk with a limp and now both have shown great signs of great improvement! Ollie is so much more relaxed at home and buzz DOES NOT LIMP! He can finally enjoy his outings again!
(For reference, the photo of the large white doggo) this is my one year old pup Ghost. She is currently in training and some times she can get a bit squirrelly and lose focus very quick and I work long shifts at an animal emergency hospital so she gets anxious while I'm away for 10hrs at a time. The pleasant pet has helped her focus more in training to where she has surpassed her puppy class and is moving on to level 3 agility training. It has also helped her stay more relaxed when I am not able to be at home so no more torn toys or beds!
Lastly, (reference the little old man helping with laundry) this is Stickers he is 11 years old and had such bad arthritis to where he could not jump, walk or even go outside without whimpering. He was so painful that he had stopped eating. We started giving him the pleasant pet orally to begin with and that improved his appetite and deification problems. We continued on with inserting it into his food and soon after his walking and jumping came back! Now the little dude won't stop jumping to greet me or to come snuggle on the bed with his owner 💕
With all this being said and seen, I highly recommend getting the pleasant pet for any of your pets physical or mental needs. I definitely will never jump straight to man made meds first for these kiddos ever again!
Amazing!
My best friend Lindsey, gifted me a bottle for my 2 babies! One suffers from arthritis and the other from anxiety. I have noticed such a difference in both their mobility and calmness. Such an amazing product!
We use for our Great Dane's skin condition & arthritis - and it works!!
We started using The Pleasant Pet CBD Oil for our Ellie girl - Great Dane (150lbs, 7.5 yo) back in July to help her with her arthritis and didn't realize it could potentially help her with her skin condition which effects her elbows and paws (in between her toes). It took about 4 months to see the full benefits and experimenting with dosages (and some antibiotics due to infections) but we seem to have found a regimen that works to help manage both Ellie's arthritis and her skin condition (she hasn't had antibiotics for a about 3 months now). Ellie absolutely loves this product because it helps her feel better and she is now able to handle short walks - we still can't do long walks but previously we couldn't do any walks except for bathroom breaks. I highly recommend this product as well as services provided by Pet and Home Care (https://petandhomecare.com/) Ellie absolutely LOVES Jean, her walker. Ellie looks forward to seeing Jean daily during the workweek - I receive a notification each visit with a report and pics which is the highlight of my day when I am working :) So glad I found both of these resources for pet owners.
Pleasant Pet is AMAZING!
This product has done wonders for one of the most anxious pups I know! When Casper comes for his visits we like to give him a little bit of Pleasant Pet to assist with easing some of his anxiety (after some training!) and within a few minutes he's a different dog. There's no more nervous pacing, barking, panting or licking. He becomes much calmer and easier to work with on his visits, he even comes downstairs to cuddle and hang out instead of running around! Pleasant Pet has helped to make Casper a much more well rounded dog; easier to train through his stressors, and we're so thankful to have discovered a product that actually works for him! (An added bonus- it helps so much with his allergies too!)
Immediate Relief for Cat arthritis Pain
Magical. This stuff is amazing. Our 11 year old senior tabby cat suffers from arthritis in his jaw. Has trouble chewing and will scream in pain if he moves his mouth wrong. He will sometimes not eat his wet food out of fear of pain, but the minute we give him this product he immediately goes to his food and eats up everyone and will then ask for more. Thank you Pleasant Per for giving our sweet boy some relief.
Thank you Sara!! This made my day!